STYLIST PROFILE
About the Owner 
  Hello,
    My name is Nece. Born and raised in Cincinnati, Oh I've loved working with hair since I was 10yrs old. I relocated my family to Marietta, Ga in 07 where I attended Empire Beauty School of Kennesaw, Ga.

          I graduated in Oct of 09 with a Master Certification in Cosmetology. After gaining Salon work experience my family relocated to Florida in 2011. In Orlando I went on to earn my Associates Degree in Business Management in hopes of starting my own business someday.
         After college I went on to establish myself as a business owner by first learning the needs of our hair care in our community. After working for a few years in someone else's salon I decided I wanted to run & build my own business & brand. My salon Locs Ñ Curls Salon Boutique was established in February 2016.  My salon specializes in natural Dreadlock maintenance & natural hair care services. We had 5 wonderful successful years in Orlando as we made lifelong friends as my business grew. Now I've closed up our Florida location and I'm bringing our skills, professionalism & natural hair care knowledge to the great state of California. 
          I'm excited for all the growth potential both in business as well as my personal growth. We've reinvented ourselves with a new name, new look, new hours with the same upstanding professionalism you'll love. We've added a new store that allows you to shop both online as well as in the salon. I'm deeply humbled for all the possibilities and I look forward to meeting & servicing  all of our wonderful new clients.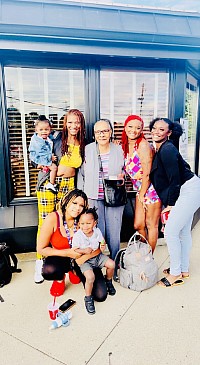 Philosophy & Invitations 
       The love I have for hair with all the changes and new looks we get to experience just excited me. So much that it made me more aware of how I took care of my own families hair.  
         My girls Zai, Mia & Niyah are my world. I've taken everything I knew about hair and embodied that passion into learning what products and styling aides work best for our hair. We've never lost edges, had weak, damaged or brittle hair. 
         Let us here at Alluring Hair Boutique show your family that same type of old school loving and care we would do for our own families. We're confident you'll love our products, professionalism and your over all salon experience. 
Orlando, Fl Clientele Dedication 
OUR ORLANDO LOCATION IS NOW PERMANENTLY CLOSED! 

   It's been truly & honor servicing all my wonderful Floridian Clientele. Most of you have become like family as we've watched each other's families grow & change over the years. You are the definition of what true loyalty, trust & mutual respect looks like. My Business was such a success because of you! Thank you for making all my dreams come true and for teaching me how to grow. My family and I will never ever forget you 😘